We now have enough  money to buy our 5th caravan … and this one will be sited near Blackpool on the opposite coast to our other four.
We had an ambitious target to raise at least £50,000 in this, our 10th year, to get the caravan and we'll be buying it in the next couple of months.
It's all thanks to three massive donations which are:
£15,000 from Sarah.
£20,000 from the Clothworkers' Foundation which gives grants to improve the lives of people and communities – particularly those facing disadvantage and marginalisation.
A pledge of £25,000 from the Wooden Spoon charity - the children's charity of rugby which helps disabled children facing disadvantage.
Ruddi's assistant manager Vicki Green gave a talk about the charity's work at a Wooden Spoon fundraising meal in Leeds where the guest speaker was another member of the Royal family, Mike Tindall. The former England Rugby Union star is married to Princess Anne's daughter Zara Phillips.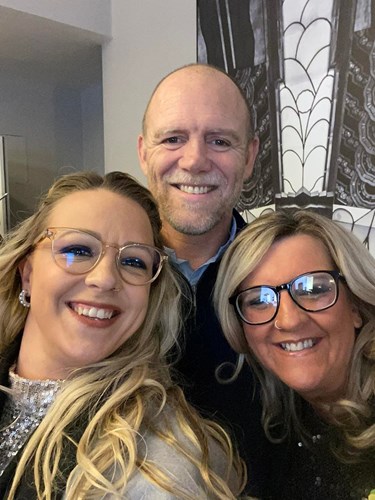 Vicki and Ali from Ruddi's with Mike Tindall
Ruddi's Retreat will also be helped by next April's Pedal for Pounds, Huddersfield Town's annual end of season charity bike ride. Cyclists will be pedalling 260 miles from the John Smith's Stadium to the Cardiff City Stadium in the Welsh capital where the Terriers will take on the Bluebirds in their second to last game of the 2022/23 season on April 29.
Ruddi's Retreat founder Ali Waterworth says the new caravan will be on a site just outside Blackpool but not too far from the North Bay.
She said: "This will make a huge difference to the charity and means we can send another 75 families on free holidays this spring and summer. We are struggling to keep up with the demand and things will only get worse as the economic crisis continues.
"The Duchess has been so amazingly kind to us and we just can't thank the Clothworkers' Foundation and Wooden Spoon enough. The difference major donations like this make to a charity such as ours is unbelievable and has such a positive and long-lasting effect on so many lives.
"Holidays are about happy times and making memories but for the families we help they get very little chance to do this in and among the constant hospital and medical appointments along with the daily emotional pressures and trauma they face in life. That's why the holidays we provide can make such a difference."
The Blackpool caravan will be second-hand and around £50,000 but could need a further £15,000 to kit it out to meet families' needs.
Ruddi's Retreat helped 260 families this year and with the new caravan that figure will soar above 300. The vast majority come from the Kirklees and West Yorkshire area.